This Time sees Alan's triumphant return to BBC television first as the stand-in, and then permanent co-host to Jennie, Susannah Fielding's cleverly observed glossy TV presenter. Along with Tim Key as long-standing sidekick Simon, they welcome a carousel of guests and specialists against whom Alan invariably rubs up the wrong way. It's a showcase for excellent comedy performances from guests including Simon Farnaby, Katy Wix and Jamie Demetriou, but perhaps none so memorable as this Irish nationalist medley performed by Coogan himself. Stream series 2 on BBC iPlayer. – LM
13. Friday Night Dinner
Friday Night Dinner (Channel 4, 2011 – 2020) took a simple premise – brothers Adam (Simon Bird) and Jonny (Tom Rosenthal) returning to their family home for Friday night dinner with dad, Martin (Paul Ritter) and mum, Jackie (Tamsin Greig) – and imbued it with thigh-slapping tragedy. Each episode builds from the banal to the farcical, filled with hubris, horror and big, brash belly-laughs. The universe doesn't want the Goodman family to have a normal dinner, and their loss is most definitely our gain, as we're treated to endless pranks bordering on fratricide, dead foxes being smuggled through living room windows, randy renegade step-grandpas running riot through the household, and countless intrusions from creepy neighbour, Jim (Mark Heap) – a man who's afraid of his own dog. The tragic death of Paul Ritter brought Friday Night Dinner to a premature end, but he leaves behind an almost flawless comedy that's chock-full of calamity, catchphrases, heart and hilarity. – JA
12. Motherland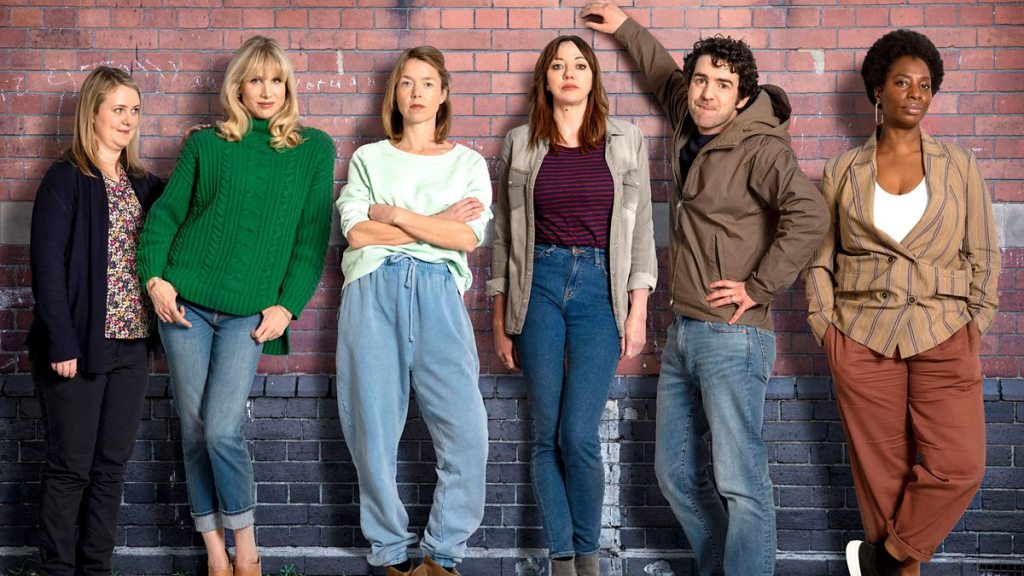 Motherland, three series of which aired on BBC (2016 – 2021) is a show about various forms of motherhood in London, from the working mum, to the single parent, to the stay-at-home-dad who's constantly surrounded by women. It's almost painfully middle-class, which is what makes it such a great subject for a sitcom. These mothers don't have the financial resources of the rich and can't just hire a nanny, which makes their problems real and their stress very authentic. But they aren't living on the breadline working three different jobs at once, which would probably be too depressing.
Much of the show is deeply cynical and lead character Julia (Anna Maxwell-Martin) can be jaw-droppingly selfish. But in amongst the biting satire, the show has enough heart to keep us invested. The moment when acerbic Liz (Diane Morgan) admits to Kevin (Paul Ready) after her toddler starts nursery that she just misses her kids, for example, is touchingly sincere. – Juliette Harrisson
11. Chewing Gum
The brilliance of Michaela Coel's I May Destroy You knocked viewers off their feet in 2020, making the writer-actor-director's next move (another BBC project) hotly anticipated. If they haven't already though, fans should also look backwards to Coel's first cult TV hit – Channel 4's Chewing Gum. A very different prospect from the BBC sexual consent drama, this two-series comedy is similarly clever, sharp and unafraid to tackle difficult subjects. Adapted from Coel's stage play Chewing Gum Dreams, it's the story of Tracey, a sheltered young woman on a Tower Hamlets estate who yearns to break out of her restrictive religious household and experience the joys of sex. It's energetic, funny and led by a show-stopping performance from Coel, ably supported by Susan Wokoma as her strait-laced sister Cynthia, and their ultra-religious mother, played by Shola Adewusi. Stream it on Netflix. – LM
10. Detectorists
UK original The Office rocketed much of its on-screen and behind-the-scenes talent – Ricky Gervais, Stephen Merchant, and Martin Freeman – to international recognition and acclaim. It led Mackenzie Crook to a recurring role in the Pirates of the Caribbean franchise, after which he forged a different path and poured himself into a resolutely – some might say quintessentially – English mould, most notably through his portrayal of the iconic and beloved scarecrow, Wurzel Gummidge. But if Englishness – at least its classic, rustic recipe – could be distilled and bottled it would taste just like Detectorists – a delightful, and delightfully funny, show three series of which aired on BBC Four between 2014 and 2017. A brand new 75-minute special is also on the way, it's just been announced.